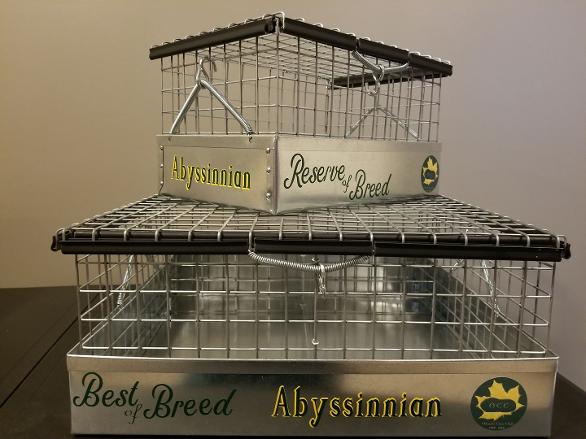 Sponsored Generously by our Members and Friends:
Top Award Specials Donor
Best In Show Room for One More Caviary
Plus Memorial Plaque for Past Members
Reserve In Show Darlene & Gregory Elchuk
Sub RIS Scott Malcolm
Best Senior in Show Michael Pelikan
Best Int. in Show Tristan Mejia
Best Junior in Show Steven Mejia
Breed Specials BOB & ROB Donor
Abyssinian Karen Waite
Satin Abyssinian Mary Anne Chmura
Boucle DRCBA
Coronet Francine Schaller
Crested Darlene & Gregory Elchuk
Satin Crested Kathryn Powers
Merino Shirley Bird & Logan Gill
Peruvian Liz Eisel-Gutcher
Satin Peruvian Kandra Irons
Silkie Shirley Bird & Logan Gill
Satin Silkie Angela Gervase
Skinny Pig Sanda Weiler & Terry Morrison
Smooth Coat Bill & Denise Robertson
Satin Smooth Coat Pam Jones
Teddy Berdeen Curtiss
Satin Teddy Jean Doyon
Texel Cheri Schubert
Special Classes Donor
Best Rare Variety Breed Room For One More Caviary
Best Rare Variety Colour Julie Consoli
Best Sow and Litter Alison Passmore Rochon
Best Boar & Son Kim Lawless
Best Breeders Pen Susan Lybolt
YOUTH
Youth Awards
Youth awards will be feed crocks and water bottles. All youth will receive a participation medallion.
Top Award Specials Donor
Best by Youth Jim Hupp
Plus Dave Ramsay Memorial Plaque sponsored by Robertsons
Reserve by Youth Pam Jones
Breed Specials BOB & ROB Donor
Abyssinian Karen Waite
Satin Abyssinian Mary Anne Chmura
Boucle Donna Kenny
Coronet Francine Schaller
Crested Elizabeth Voigt
Satin Crested Angela Gervase
Merino Shirley Bird & Logan Gill
Peruvian Liz Eisel-Gutcher
Satin Peruvian DRCBA
Silkie Shirley Bird & Logan Gill
Satin Silkie Jean Doyon
Skinny Pig Sanda Weiler & Terry Morrison
Smooth Coat Deb Spencer
Satin Smooth Coat Suzette Rundle
Teddy Shirley Bird & Logan Gill
Satin Teddy Elizabeth Voigt
Texel Cheri Schubert
Special Classes Donor
Best Rare Variety Breed Suzette Rundle
Best Rare Variety Colour Allison Fitkin
Best Sow and Litter Nathalie Aubin
Best Boar & Son Nathalie Aubin
Best Breeders Pen Nathalie Aubin